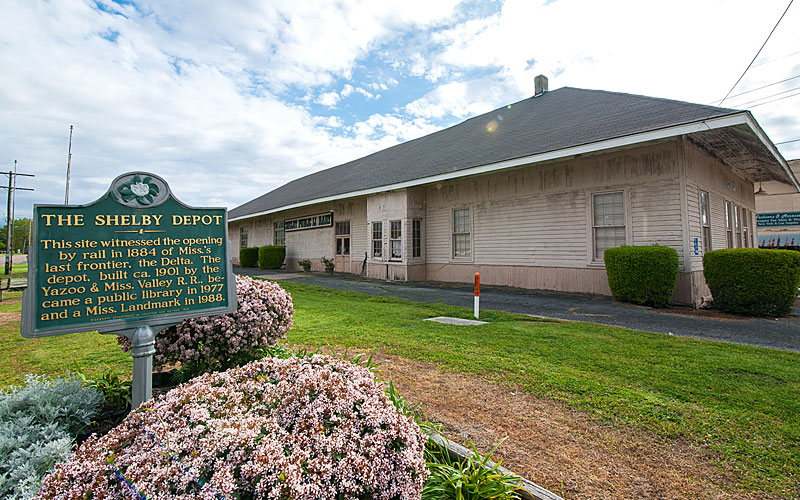 The Shelby Public Library was formally dedicated on February 14, 1959, and was originally housed in a 324 square foot storefront rented by the City of Shelby from Wayne Thompson. The first library board was appointed by Mayor Scott Morrison in May, 1960: Mrs. Jack Denton, chairman; Mrs. H. L. Bretall; Mrs. Harry Childress; Charles Newton; and James McKenzie.
When the City of Shelby applied to the Mississippi Library Commission for funds for a new building, Dr.  and Mrs. R. T. Hollingsworth presented the City with a deed to a lot, which had been purchased from Mrs. Ruth Hawkins with the stipulation that only a library could be built there. Service for the new facility began in March 1968.
On May 14, 1968, the Shelby railroad depot closed and was purchased by the City of Shelby in 1976 for later conversion into the Shelby Public Library in 1977. The library was later designated a Mississippi Landmark by the Historic Preservation Division of the Mississippi Department of Archives & History on January 6, 1988. The highway marker was unveiled on April 14, 1989.
On November 17, 2005, the  library was renamed the Dr. Robert T. Hollingsworth Public Library for the retired, beloved Dr. Bob, as he was affectionately known. Dr. Bob and his wife Kathryn, a registered nurse who worked side-by-side with her husband, served the City of Shelby and the community for over 50 years.
Former librarians include Evelyn Browning (Mrs. James), the first permanent librarian; Patricia A. Denton, who was librarian in 1972; and Vivian Malatesta, who was librarian from 1974 to December 2005. Librarian Marie Shorter has served the needs of library patrons since 2011.
###
Dr. Robert T. Hollingsworth Library
Hours:
Mon. & Wed. – 10 a.m. – 5 p.m.
Friday – 12 p.m. – 5 p.m.
---
Location:
211 Third Street
Shelby, Mississippi 38774
» Larger Map
---
Contact:
Phone: 662-398-7748
Fax: 662-775-7002
Marie Shorter, Librarian
shelby@bolivar.lib.ms.us
---
A meeting room is available to the public; please contact the librarian for more information.