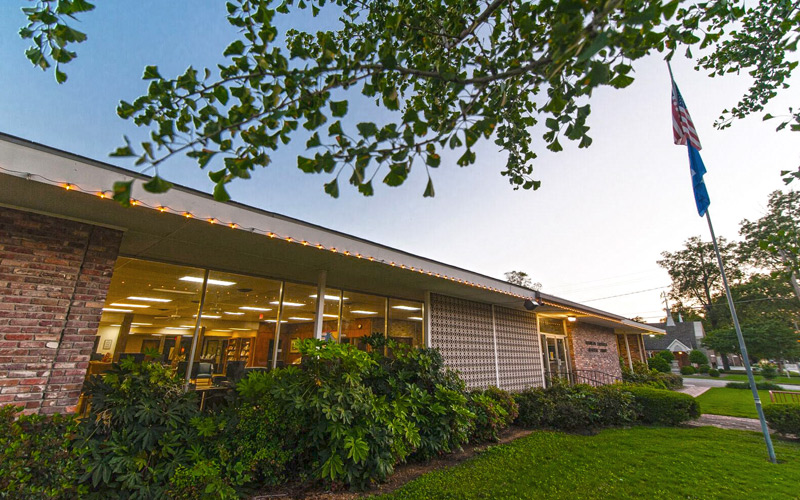 In 1917, the Madame Hodnett Chapter of the DAR created a public library located in a room of the newly completed First Methodist Church of Cleveland, but quickly outgrew its small quarters and moved to a room upstairs in a storefront (formerly the Owen Drug Store, now Neysa's). From there it was moved upstairs over the Cleveland State Bank on Sharpe Street.
In 1928, the Bolivar County Board of Supervisors gave space on the third floor of the Court House and a small monthly sum for books. The County took over partial financing of both Cleveland (and Rosedale) libraries in 1943. In 1948, Cleveland Public Library was moved from the Court House to the Cleveland High School.
Following renovation, the Cleveland library was moved to a store building (formerly the Davis Furniture Company) at 120 North Street and formally opened on April 5, 1959. In November 1959, a tragic house fire killed the Cleveland librarian Dorothy Robinson Carpenter and her family. Her parents purchased the present property and together the Robinson family and the City of Cleveland built the Dorothy Robinson Carpenter Family Memorial Library (eventually shortened to Robinson-Carpenter Memorial Library). The project included adding an addition to the original structure (formerly the McPheeters Gift Shop). The formal dedication was held July 2, 1961.
In 1965, a construction grant from the MLC allowed for a 2,816 square feet addition that added the Mississippi Room. Following this addition, Mrs. John T. Smith added the walled garden (courtyard) as a memorial to her husband, which was dedicated in April 1967. After acquiring an adjoining lot, a final addition was added in 1979, adding another 4,200 square feet.
###
Robinson-Carpenter Library
MAIN BRANCH

Hours:
Monday-Thursday: 9 a.m. – 6 p.m.
Friday: 9 a.m. – 5 p.m.
Saturday: 9 a.m. – 1 p.m.
---
Location:
104 South Leflore Avenue
Cleveland, Mississippi 38732
» Larger Map
---
Contact:
PH: 662-843-2774
FAX: 662-843-4701